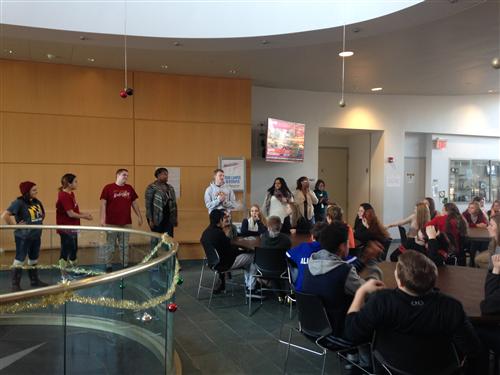 Student leaders from Garrett and Allegany Counties gathered on Wednesday, January 4, 2017, at Frostburg State University to participate in a Maryland Leadership Workshops (MLW) regional leadership day sponsored by GCPS, ACPS, MLW, and FSU.
Students attended workshops on Parliamentarian Procedure, Motivation/Empowerment, and Communications/Conflict. During the day-long event, students had the opportunity to discuss regional issues as well.
The mission of Maryland Leadership Workshops, Inc. is to provide leadership training and education to individuals and groups in Maryland and throughout the Mid-Atlantic region. MLW inspires youth to realize their leadership and human potential and empowers youth with the skills and confidence necessary to become catalysts for positive change in their schools and communities and to succeed in all facets of their lives.